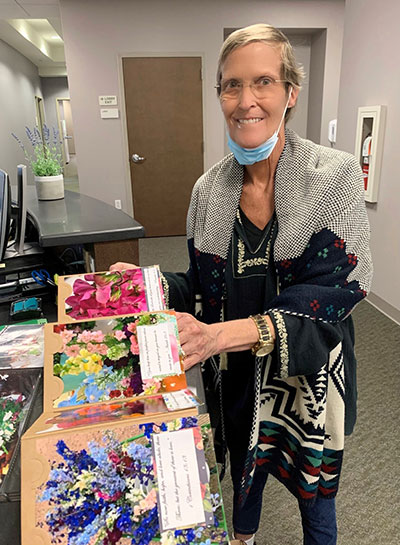 Known as Betsy to her friends and family, Ms. Susan Arriola has a colorful past. This former corporate boss turned flower farmer from New Ulm, Texas was referred to The Sugar Land Cancer Center to discuss treatment options. In late 2019, the self-labeled "Energizer bunny on crack" noticed fatigue which was very unusual for her. She thought it was heat exhaustion from working on her ranch all day but found it was due to low sodium.
A work-up revealed she had advanced lung cancer. After rounds of chemotherapy and immunotherapy, the Stage IV cancer showed excellent response. This was welcome news to her community who sent her get well cards, gifts and even a hand-sewn quilt to let her know that they were in prayer for her recovery. After many months of being well, last month she noticed new neurological symptoms that prompted a brain MRI. This test revealed several metastatic lesion consistent with spread from her lung cancer. She is now undergoing brain irradiation.
For most of her life, she worked the land growing splendid flowers of all kinds and selling them through her business Country Petals. No occasion was too big or small. Wedding venues vied for her artistry. Locals would drive by and pick up fresh cut bouquets and put in $10 on an honor system. Her flowers were always sold out.
Today, she brought in a special photo album created by her niece showcasing Ms. Arriola's flowers over the years. Each photo has a Bible verse below it reminding her of God's faithfulness in providing for her. Although she knows her disease will likely run its course and her time is limited, she is so grateful for the rich and beautiful memories she has made through nurturing flowers on her land and being well loved by her husband and community. Thank you, Betsy, for sharing your photos with us and for showing us what courage means in the face of an uncertain tomorrow.