Ways to Give After Hurricane Harvey
September 2017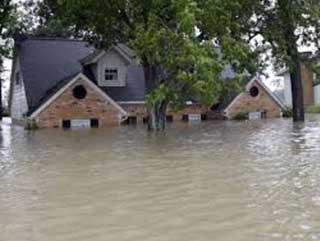 It is a humbling experience to see the devastation left behind Hurricane Harvey right on your own street. While I am back at work and my children's school re-opened today, we cannot forget that for many families, life is not "back to normal." Neighbors still have water in their homes and entire communities have lost their livestock, cars, homes, businesses and for some, even suffered death of loved ones during this historic flood.
I pray and hope that Houston can not only recover but in doing so, experience the love and support of knowing that they are not alone. Through a Facebook post, I learned that a childhood friend's home was destroyed in Meyerland. They do not have flood insurance. They will start over and have set up a Go Fund Me page like so many others. If you do not have an individual to donate to, there are many solid organizations including the Cajun Navy, JJ Watt Foundation and your local blood bank that would appreciate your help. Look for ways to maximize your contribution. Our generous hospital has pledged to match employee donations for Houston flood victims up to $1 million dollars! Furthermore, famed author and speaker Tony Robbins has pledged to match donations up to $100,000 at my home church, Hope City. With so many in need, let's all pitch in and find ways to get involved because Houston is not going to be back to normal anytime soon.
---
Aggressive Brain Tumor in the News
August 2017
When Senator John McCain announced that he had a rare brain tumor called GBM (glioblastoma multiforme), former patient Devlyn Taplin took notice. It has been approximately a year since Mr. Taplin was diagnosed with the same type of rare and aggressive brain tumor. His history began with a less aggressive oligodendroglioma in 2015 but within a year of resection, it recurred in the same location, but had transformed into a more aggressive GBM.
Armed with a positive attitude and support from his family, Mr. Taplin underwent trimodality therapy with surgery followed by 6 weeks of daily chemoradiation therapy. Today, he has made a remarkable comeback with no neurological deficits and no signs of cancer on this week's brain MRI (photos illustrate his brain MRI before and after treatment). At 50 years young, Mr. Taplin is determined to do whatever is necessary to stay disease-free and see his daughter graduate from college. For Senator McCain and others battling this rare disease, Mr. Taplin is a reminder that while statistics may be frightening, there is always hope.
---
Cancer Survivor Surprises Co-Workers with her Resiliency
July 2017
"Is that you?" said the voice on the other end of the phone when a co-worker recognized Amy's voice. In late 2015, Amy Pomerantz discovered she had a 9cm rectal tumor that had invaded her bladder. She described seeing stool in her urine due to the fistula that had formed between her rectum and bladder. She remembers how some co-workers "assumed I would be dead in a year" as they watched her undergo preoperative chemoradiation therapy. Despite how locally aggressive it was, staging PET/CT showed no distant metastases so she set her sights on trimodality therapy with nothing short of curative intent. But her steady resiliency proved life-saving. When it was time for surgery, her pathology revealed no residual cancer in the rectum or the surrounding lymph nodes. She went on have her temporary colostomy reversed and completed the final months of adjuvant chemotherapy. Having returned to work full-time, as you can see by her infectious smile in this photo, she's BAAACK!!!!
---
Father's Day
June 2017
With Father's Day around the corner, I'm reminded of a very special father who will complete his treatment this week. Mr. Julio Barbarella is an 80 year old gentleman who was diagnosed with a Gleason Score 4+4 adenocarcinoma of the prostate. Talking to Mr. Barbarella is like meeting a friend you've known for years. Each week he talks about his daughter Sandra who despite her hectic career, has taken care of all his medical paperwork, bills and transportation needs so he could be treated. He calls her his "angel" and tells me how proud he is of her. When I mention to Sandra how much he boasts of her achievements, she blushes and nods as if she is not surprised. Apparently, Mr. Barbarella is not one of those proud and silent types but one that lavishes his daughter with words of love on a regular basis. Mr. Barbarella tells me that he is undergoing his therapy "not for myself but for my angel." We are very hopeful that the combination of hormone blockade and radiation therapy will put him in remission so he can celebrate this Father's Day and many more to come. Happy Father's Day, Mr. Barbarella!
---
Pregnant After Breast Cancer!
May 2017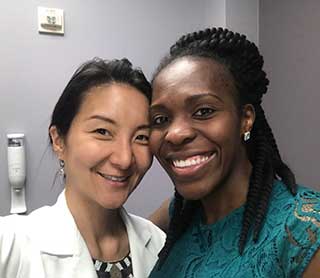 Imagine you are 25 years old and breast feeding your first-born son when you begin to notice a mass in your right breast. Scary doesn't even begin to describe how Beatrice Adeniyi felt. After mammogram demonstrated a 4 cm mass in the lower right breast and biopsy confirmed high-grade invasive ductal carcinoma, she was started on neoadjuvant chemotherapy with a powerful doublet targeting her unique her2-neu positive cancer. Fortunately, her breast tumor and the metastatic lymph node in her right axilla both responded so well that at the time of lumpectomy and lymph node dissection, pathology revealed no residual cancer cells in either specimen! She went on to complete her postoperative radiation and adjuvant systemic therapy with all subsequent tests coming back clean. With remission at hand, she and her husband became resolute to try to have another child and today, she shared with us that they are expecting their second child in October!!! And for the record, Beatrice says she just "knows it's a girl?"
---
Early Stage Breast Cancer Treated with 1-Week Radiation
April 2017
For many women diagnosed with breast cancer, treatment involves 6 weeks of breast radiation therapy. However, for select patients with early stage disease and favorable biology, an accelerated treatment course is available. It is commonly referred to as APBI (Accelerated Partial Breast Irradiation) or patients frequently call it "one-week radiation." Studies have confirmed that treating the lumpectomy cavity in 10 fractions over a 1 week period (two fractions per day) is equally effective at preventing local recurrences in the breast as treatment delivered over 6 weeks. The option of 1- week breast radiotherapy is especially attractive if the woman lives far from a radiation oncology center and/or if she has large breasts which typically have more skin reaction from whole breast irradiation.
Mary Anna Gilcrease is a former patient of mine who was treated with APBI. For Mary Anna, who is an avid traveler, less treatment time meant faster recovery and more time to get back to the people and things she loves. Approximately 4 years since successful treatment with APBI, she is busier than ever with road trips all over the United States. Whether she and her husband are visiting their quaint B&B spot in Arkansas, attending music concerts on the lawn or discovering new places to eat, this couple are always living life abundantly! Here is a picture she shared with me from a recent trip to Marble Falls. One of these days, I must take a trip of my own to see these marvelous fields of bluebonnets.
Happy travels, Mary Anna!
---
March Madness
March 2017
March madness likely brings to mind the NCAA basketball frenzy, that time of year when husbands and brothers disappear into their man caves to watch hour after hour of college basketball. Here at The Sugar Land Cancer Center, we have our own kind of friendly competition taking place among our patients getting treatment for head and neck cancers. For anyone needing radiation involving the head or neck, a plastic mask is custom made to keep their head immobilized during treatment.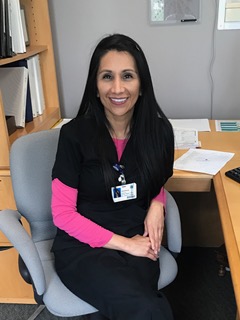 While most centers make these plastic masks, only here does our manager Veronica Galloway go the extra mile to ask each patient questions like "Do you have a favorite sports team?" or "Do you have a favorite hobby?" Armed with their answers, Veronica decorates their masks the night before their first treatment. If you could see the reaction of patients when they see her artistry...she truly embodies our philosophy of treating each person as an individual and we are proud to call her our own. To know Veronica is to know someone who turns everything she touches into a work of art. So which mask is your top pick?
---
Innovative Radiation Given Twice Daily Cures Aggressive Skin Cancer
February 2017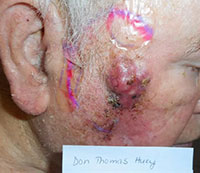 I have seen and treated countless skin cancers of varying difficulty but never before have I seen a tumor GROW while under radiation treatment…until I met Mr. Don Huey. Last Fall, I had the privilege of meeting Mr. Huey who had a high-grade squamous cell carcinoma on his right temple that he saw grow from a small pimple to a large mass in a matter of weeks. He was not a good surgical candidate due to low blood pressure so electron therapy was the natural approach. Radiation therapy yields cure rates equivalent to surgery with much less risk. We started once daily radiation treatment but by the second week, Mr. Huey and I could clearly see that the mass was growing. His medical oncologist even administered a radiation sensitizer but nothing seemed to be working.
At The University of Chicago where I did my residency, we routinely treated aggressive head and neck cancers with twice daily radiation. This doubling of dose with six hours between fractions proved very effective at killing aggressive tumors. I told Mr. Huey that we needed to change his fractionation schedule to get ahead of the tumor and that he would need to come in twice a day for the remainder of his treatment. He agreed and as you can see from the pictures, the skin reaction was rather intense but well worth it as he achieved complete remission. Here he is smiling at our last follow up appointment, showing off his good side, cancer free.
---
A New Beginning after Recurrence
January 2017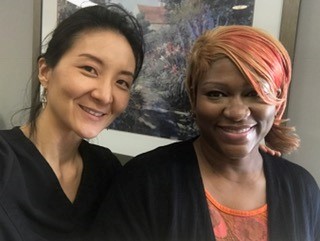 For many young women diagnosed with unilateral breast cancer, the fear of dying of disease leads them to choose bilateral mastectomies with the expectation that while drastic, it is worth it if it will be curative. For Chandra Marsh, 2.5 years after undergoing bilateral mastectomies for a Stage I left breast cancer, the unimaginable happened. She was seeing a plastic surgeon for revision of her autologous reconstruction and complained of a firm mass along the lateral left chest wall. The surgeon measured a hard 4 cm mass that looked suspicious and biopsy confirmed recurrent breast cancer. Fortunately, staging PET/CT scan was negative for any other site of disease so we set out a comprehensive plan including preoperative chemotherapy, excision and postmastectomy radiation therapy.
For 10-15% of women with early Stage I-II breast cancer who choose mastectomy, a local recurrence occurs within 10 years. Patients should be counseled that a mastectomy removes the vast majority of breast tissue but in no way removes all of it, thus their risk of relapse is not zero and they need close surveillance by their oncologist. The good news is that isolated recurrences at the chest wall are very successfully salvaged with postmastectomy radiation and her long-term prognosis is excellent. Here is her smile on her graduation day, completing all care and beginning a new year cancer-free.
Happy Holidays
December 2016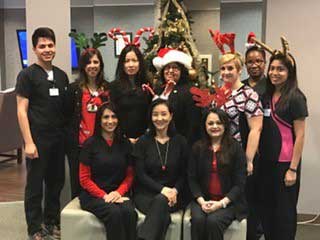 Happy holidays from Dr. Oh and staff at Sugar Land Cancer Center. Praying that your 2017 is filled with health, joy and blessings.
---
Chicago Cubs Win World Series Against the Cleveland Indians
November 2016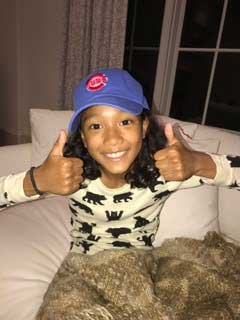 Not since 1908 had the Chicago Cubs won a World Series, which was the longest drought in baseball history. Being a Chicago native and living blocks from Wrigley Field for more than a decade, this month has been an emotional one. I had not stayed up to watch baseball like this ever before in my life but this was different. Each game of the World Series was increasingly exciting and nerve racking and my daughter asked me one morning, "Why are you scared of baseball?" I asked her what she meant. She said she could hear me from her bedroom screaming at the television as she tried to fall asleep. Oh! Then yes, I was very scared of my Cubbies losing the World Series. Fortunately, it took game 7 and the 10th inning to do it but as a team and with fans around the globe, they pulled through and beat the Indians 8-7. (Here is my daughter watching history as the Cubs won in game 7!) Sometimes life seems hopeless but then again, sometimes patience pays off and victory is around the corner to those who never stop believing in the improbable. Congratulations to my hometown Cubbies and the players.
---
Preoperative Chemoradiation Proves Successful Against Rectal Cancer
October 2016
Today, a vibrant gentleman presented for routine follow up for his rectal cancer treated 2 years ago. Initially he presented with complaints of abdominal pain, weight loss and chronic diarrhea. Colonoscopy quickly diagnosed a large mass in the rectum measuring approximately 15 cm long (tumor denoted by red circle, located posterior to the bladder which has normal physiologic uptake). Biopsy of the mass confirmed what we suspected- rectal carcinoma. He had a PET scan that showed the disease was confined to the rectum. We started him on preoperative chemotherapy and radiation therapy as this has proven to improve pelvic control rates compared to doing upfront surgery followed by chemoradiation. For 6 weeks, he patiently waited for the radiation inflammation to heal before proceeding to surgery.
Then the pathology report came in. The rectal specimen had NO evidence of any residual cancer cells! He had achieved what is called a pathologic Complete Response (pCR), the holy grail of neoadjuvant cancer therapy. Among patients with rectal carcinoma, only 15-20% of patients attain a pCR after preoperative chemoradiation therapy and such response correlates with favorable long-term overall survival and recurrence-free survival (RFS) above 90%. For this patient, he is alive and with no evidence of disease, he did not need a permanent colostomy and is another survivor for whom the sequence of chemoradiation BEFORE surgery proved to be the right choice.
---
After Diagnosis, Some Choose to Keep their Cancer a Secret
September 2016
I will never forget a Japanese American woman who I saw over 10 years ago with a very advanced breast mass that had broken through her skin. It was bleeding and had a foul odor yet somehow for years, she hid it from her daughter because "I didn't want her to worry." This would gut anyone but was particularly painful for her daughter to see as she was an emergency room physician. The guilt and anger she felt towards her mother was heartbreaking.
Recently two women with breast cancer shared with me that they are keeping their cancer diagnosis from their mothers. One is postmenopausal and has a new diagnosis of early disease. Her mother is elderly and in poor health so she does not want her to worry. The other is 39 years old and was treated on a clinical trial in the medical center for a number of years but unfortunately has developed extensive disease in the brain. Her mother is in her mid-70s, alert and in relatively good health. The patient is a single mother to a 2 year old daughter and has told only her sister and boyfriend about her diagnosis.
Patients struggle with this decision and may be empowered by being in control of the secret at a time when they feel all else is out of their control. Secret keeping is not always a bad thing but for this young woman with terminal breast cancer, I worry that her mother and other family members will be hurt when they find out and ask, "Why didn't she trust me enough to tell me?" While there is no right answer, I hope both of these women can live with their decisions to keep their cancer a secret.
---
Intensity Modulated Radiation Therapy Cures Oligometastasis from Breast Cancer
August 2016
In March of 2012, Debbie McDurham felt a mass in her left breast. Work up confirmed it was breast cancer that had spread to the nearly lymph nodes as well as to one vertebral body causing pain. The oligo- (single) bone metastasis at the thoracic spine initially caused some of her doctors to doubt that she was curable as this made her disease a Stage 4 cancer. However, when breast cancer has spread to limited sites of bone, it is in fact the most favorable type of Stage IV breast cancer. So with curative intent, we outlined a comprehensive plan to treat the spine lesion first with radiation therapy as this was symptomatic followed by systemic chemotherapy, breast surgery and XRT.
A palliative 2-week course of low-dose radiation would have addressed her back pain but would not eradicate the tumor. As the spinal cord was our dose limiting structure, our dosimetrist Tonee Conner and I decided to do an innovative IMRT plan that would treat the tumor to a high, curative dose while avoiding the central spinal cord. In the black and white pictures (axial and sagittal views), you can appreciate the donut-shaped isodose plan that targeted dose to the bony disease while sparing the centrally located spinal cord. The central spinal cord was outlined and dose was aggressively pushed away from it while maintaining high dose coverage to the surrounding bone which harbored the tumor cells. Thanks to IMRT (intensity modulated radiation therapy) and trimodality treatment, Debbie is cancer-free and busy remodeling her beach home with her husband. Let's hope it's done by Thanksgiving!

---
A Different Perspective after Pancreatic Cancer Treatment
July 2016
When Gwyndolyn Lee-Collins was first diagnosed with pancreatic cancer, she had lost 40 pounds and developed adult onset diabetes. Her tests showed that the tumor had spread to one of her adrenal glands, making it a Stage IV.
With a tailored plan of attack involving chemotherapy, radiation therapy and radio frequency ablation (RFA), she is not only a survivor but is so full of energy that her sisters see her and ask "Are you sure you had cancer?"
When she was a child, she used to climb the family's pecan tree where she could be free to play and dream. At 65 years young, she has regained her strength and told me that she was climbing that same pecan tree again. Ms. Lee-Collins thanks God and her parents' support for her remarkable response. She says she has a whole new perspective on life as she sits perched up high in her tree, feeling grateful that she can once again climb her favorite childhood tree and enjoy the view.
---
Beating Triple Negative Breast Cancer
June 2016
Stephanie Thomas was only 38 years old when she discovered a large mass in her right breast. Breast biopsy returned positive for triple negative breast cancer and imaging confirmed that it had spread to lymph nodes in her axilla (armpit) and supraclavicular fossa (low neck lymph nodes), making it a Stage IIIC. In addition, biomarker study revealed that her tumor was "TRIPLE NEGATIVE"- a particular type that is less common and often associated with poorer survival rates. With her husband and son by her side, she underwent aggressive neoadjuvant chemotherapy, mastectomy and radiation therapy.
Fast forward three years….Stephanie is doing great and cancer-free. Follow-up appointments are less frightening and she has completed breast reconstruction. Her positive attitude amazes us as she always has a smile on her face and finds laughter in the little things. Recently she lost over 20 pounds in less than 2 months and when asked how she did it, she shared with us that her brother and mother are competing in their own "Biggest Loser" race to see who can lose the most weight. The prize you ask? A $25 gift card plus in her words, to "beat my brother. I'm competitive!"
---
The Pitfalls of Biozorb® Device for Breast Cancer Patients
May 2016
I recently had a lovely woman with breast cancer express serious concerns about a foreign body placed in her breast where her surgeon removed a 7 mm cancer. Her breast cancer was detected on a screening mammogram and was non-palpable. Unfortunately, when she awoke from surgery which was to remove the tiny cancer, she was surprised at a hard mass left in its place.
She thought it was postoperative swelling or a hematoma, but on CT scan was found to have a device that looked like a spiral coil with titanium clips. After some investigating, it was discovered that her surgeon placed a Biozorb® device in her at the time of the lumpectomy.
"What is it?" she asked me. It was the first time I had seen it. I had to do some research and found that it is a device that claims to improve target localization and reduce the volume needing treatment for postoperative radiation therapy. While this may be true in select cases where the cavity is poorly visualized, in my patient's case, it was not necessary and actually created problems. Not only did it create anxiety as the breast had a palpable hard mass where there was none initially, but when it comes to treating the breast with postoperative radiation, it forced me to use a higher energy electron for her final week of boost therapy due to its large size.
Normally, a lumpectomy cavity is treated for 5 fractions with low energy electrons such as a 6 MeV or 9 MeV. Such energies give modest dose to the skin and leave no permanent scarring. As you increase in energy of electrons, it increases the skin dose and you run the risk of seeing more early and late skin reactions. The most disfiguring side effect is the appearance of telangiectasias, which look like red spider veins. No woman wants this on their legs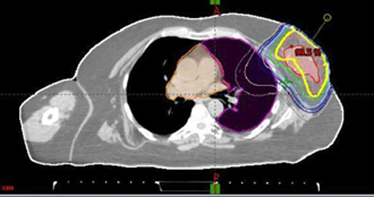 and certainly not on their breast! The Biozorb® claims to dissolve slowly over 12 or more months, but my patient will be having it removed as soon as she can as it has been a source of anxiety since its implantation. I would strongly encourage breast patients to be aware of new technology that has not been fully vetted by long-term follow-up, which Biozorb lacks. A surgeon should not be making a decision to place these devices without the informed consent of the patient and not without discussing its risks and benefits with the radiation oncologist. It did not help, and in fact caused harm in this woman who, due to the Biozorb®, now faces the uncertainty of developing telangiectasias by her lumpectomy cavity in the future.
---
New Collaboration in Cancer Immunotherapy Research
April 2016
This month, co-founder of Nabster and founding president of Facebook, Sean Parker, has announced that he will donate $250 million to establish the Parker Institute for Cancer Immunotherapy. The generous donation will bring together researchers from top cancer institutes to collaborate in efforts to expedite clinical progress in immunotherapy. Parker is very accurate when he describes barriers in academic research including secrecy and fear about losing intellectual property. There is so much anxiety for researchers to secure grant money to sustain their laboratory that the physician can lose its focus, which is to reduce the suffering and death caused by cancer. Parker's grant will immediately remove the burden of applying for grants and hopefully accelerate the discovery process. The other barrier this partnership aims to eliminate is the bureaucracy of intellectual property. The Parker Institute will, when new therapies come to market, be responsible for licensing and negotiating with industry while the individual scientific institutions would maintain the intellectual property. The institute's leader Jeff Bluestone describes the paradigm shift as one of individualized, solo research as to a new style of community research to bring about "something bigger and better together."
---
Managing Cancer as a Chronic Disease
March 2016
Meet Patricia Shaheen, a woman who refuses to let others pity her just because she has been dealing with her breast cancer since 1997. Initially diagnosed with a Stage I right breast cancer, she underwent a modified radical mastectomy and axillary lymph node dissection (no radiation, chemotherapy or hormonal therapy). She was free of disease for 12 years before discovering a local-regional recurrence at her right axilla. She was given an anti-estrogen pill and local XRT and went for another 2 years with no evidence of disease (NED). In late 2011, she experienced a second relapse, this time a painless lesion at the left scapula, found on routine tests. Focal radiation was given and another 3 years went by with no progression as she was managed on only anti-estrogen oral pill therapy.
In 2014, routine tests discovered a new site of relapse at the right neck and it was treated with focal XRT and went away completely. Then in 2015, another isolated site of relapse was found in a subcarinal node in her chest by her lungs. This too responded completely to anti-estrogen therapy and focal XRT. So after FIVE focal relapses that at their time of diagnosis was the only site of disease (called oligometastasis), spanning nearly 19 years, she remains pain-free, cancer-free and is able to say that she has never had chemotherapy or pain related to her breast cancer. She has a remarkably positive attitude and is a clear example of how some cancers have become like chronic diseases where they are managed, much like diabetes or heart disease. For Ms. Shaheen, she knows that her disease will likely return one day but much like she has done in the past, she is ready to "deal with it when it happens and until then, live my life and be grateful."
---
Patient Concierge Services Expedite Answers and Care
February 2016
When one travels to a foreign country where they aren't familiar with the language, the value of an interpreter or concierge service is invaluable. So it isn't surprising that studies are showing that patient interest in concierge health care is growing. When a patient first learns that he/she has cancer, not only is the medical terminology like a foreign language but the stress can make it challenging to be able to cope with making appointments, verifying insurance coverage, navigating driving instructions to various doctors, etc. let alone thinking about how to fight their cancer!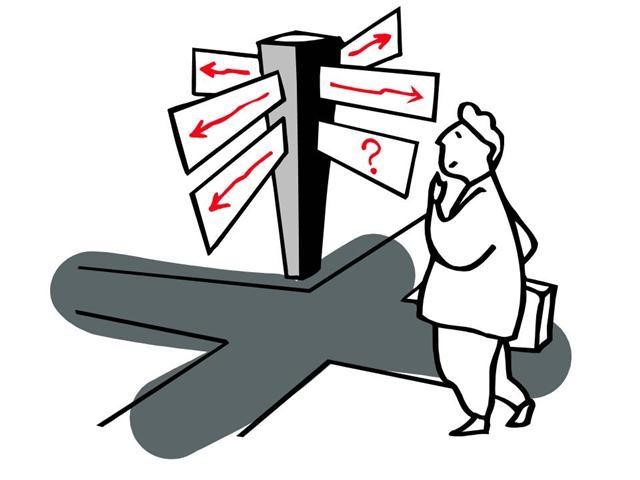 At the Sugar Land Cancer Center, we have been providing various concierge services to newly diagnosed cancer patients for years. We recognize the trauma of being told that a test result is abnormal or that a biopsy shows cancer. The most important step is seeing an oncologist quickly so that EDUCATION on what they have and what treatment options are available to them can take place as soon as possible. When a newly diagnosed patient is referred to us, we willingly provide help in coordinating all their care and it feels great to know we've helped someone bypass the typical frustrations that truly erode their trust in the healthcare system.
One young woman was recently referred by her primary physician with a newly diagnosed breast cancer. She was 42 years old and so frightened. I spent time explaining her mammogram and biopsy results, ordered tests to verify it was contained and with her help of the primary physician, referred her to the necessary specialists for immediate attention. Working as a team, we were able to do all of this and start her on neoadjuvant chemotherapy within only 1 week. This is critical for patients like her who have aggressive diseases. Her particular breast cancer is Stage III with unfavorable biologic markers such as Her2 neu amplification and Ki-67 of 90%. Her primary care physician likely saved her life when initiating the rapid referrals for her to see the necessary breast specialists so quickly.
---
Cancer Death Rate Continues Steady Drop
January 2016
According the The American Cancer Society's annual cancer statistics report, published in CA: A Cancer Journal for Clinicians,there is reason to celebrate as research shows a 23% drop in cancer death rate since its peak in 1991. Over the past two decades,there have been advances in cancer prevention, early detection and treatment that have translated into decreased death rates
for four major cancer sites: LUNG, BREAST, PROSTATE and COLORECTAL. The decrease use of tobacco use among men was associated with lung cancer death among men dropping 38% between 1990-2012 compared to a 13% drop among women seen during the same time period. Likewise, breast cancer death rates dropped 36% and prostate and colorectal cancer death dropped 50%.
Other interesting findings in the study include:
With more advances in leukemia treatment, brain cancer has surpassed leukemia as the leading cause of death among children.
For men and women younger than 50 years old, as screening is not recommended, their incidence of colorectal cancer rose 1.8% per year from 2003-2012.
The most rapidly increasing cancer being diagnosed is thyroid cancer (>5% per year for both genders), partially due to increasing use of radiology tests such as CT scan.
Blessings at Christmas
December 2015
Having young children (ages 5 and 8 years old), Christmas is of course the most anticipated time of the year. So the day after Thanksgiving, we all went to the tree farm to select and cut down our Christmas tree. Little did I recall how much work having a real tree was. After shaking all the dead needles out on the back patio, my husband placed it upright for the kids and I to decorate. Unpacking ornaments was instantly nostalgic and for me personally, the joy of receiving snail mail from friends is what I look forward to the most. Whatever your family's traditions, this Christmas, I hope you'll have the chance to reconnect with old friends, try something you've never done, read a new book and in whatever you do, be fully present to enjoy life's quiet blessings. Merry Christmas!!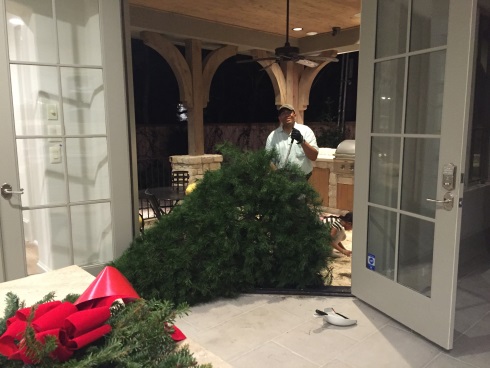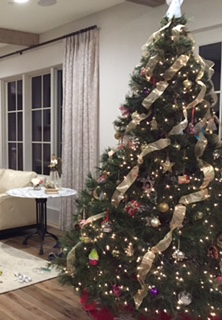 ---
Surviving Advanced Lung Cancer
November 2015
Proud immigrants from Cuba, Mr. and Mrs. Alonso feel fortunate to have found an advanced lung cancer when they did. Mrs. Alonso was seeing her orthopedic surgeon for back pain when an MRI of the thoracic spine revealed a 5 cm mass at the upper lobe of her left lung. This took everyone by surprise as she had no respiratory symptoms and had never smoked. After staging work-up revealed it had not spread beyond the chest, she had a lobectomy and lymph node dissection. Her pathology revealed a Stage IIIA non-small cell lung cancer which spread to two lymph nodes in the middle of her chest. Usually, chemotherapy and radiation would have been indicated but given that she was in her 70s, she declined chemotherapy and proceeded to postoperative XRT alone. Now more than 3.5 years out with no sign of recurrence, Mr. and Mrs. Alonso are confident that they made the right decision. Each follow-up visit with this loving couple is a joyous reunion and Ms. Alonso serves as a valuable reminder that recommendations are based on statistics but are not gospel. In her unique case, less aggressive therapy proved to be adequate while preserving her quality of life and she and her husband have no regrets.
---
Nasopharyngeal Carcinoma Creates an Unexpected Friendship
October 2015
Nasopharyngeal Carcinoma (NPC) is common among Asians, especially the Southern Chinese. These are very invasive cancers that originate at the nasopharanx but are commonly diagnosed in Stage III and Stage IV with significant spread to the lymph nodes around the neck. The nasopharynx is so close to critical structures so the role of surgery in this disease is limited to the biopsy to make the diagnosis. Fortunately, the treatment of choice with combined chemotherapy and radiation therapy is highly effective.
In 2013, I had the privilege of meeting two Asian gentlemen with very similar presentations. Both had very advanced Stage IV nasopharyngeal carcinoma with spread to enlarged lymph nodes in their neck. Both had retired from careers in cooking and became fast friends during their 7 weeks of daily radiation. In their initial follow-up visits, Mr. Chan would always ask "How is Mr. Yu?" and Mr. Yu would ask "How is Mr. Chan?" It wasn't long before the two men asked me if I could schedule their follow-up visits on the same day so they could have a reunion. What a joy to see the two friends reunite in the same lobby where they first met. Today, Mr. Chan and Mr. Yu continue to remain friends and cancer-free.
If you are going through cancer treatment and would like support from another survivor or patient under active treatment, CanCare is a valuable resource that will connect patients of similar age, diagnosis, etc to help you get the support you need. To learn more, go to www.cancare.org or call (713) 461-0028.
---
Male Breast Cancer- Facts versus Fiction
September 2015
It is well known that women are at risk of breast cancer but did you know that men can develop breast cancer too? In over 15 years, I've personally treated only half a dozen men with breast cancer so that illustrates how rare it is. Male breast cancer patients often share a common story about being ignored by their physicians when they complained of a breast mass or breast pain. This is due to the lack of awareness that yes, men have breast tissue and can develop breast disorders including cancer. Certain liver diseases or medications that raise estrogen levels can increase a man's risk for breast cancer but like many cancers, a clear etiology or explanation is not always known.
Last year, I had the pleasure of meeting Mr. Alvin Matthys, a retired engineer referred by his urologist for treatment of a prostate carcinoma. He and Mrs. Matthys always came for his treatments together and became like family to our staff. On follow-up visits, his PSA level has declined more than five-fold and things were looking good. To my surprise, Mr. Matthys mentioned a self-palpated breast mass that he wanted my advice on. On examination, a firm mass was easily palpable in his left breast Mammogram and subsequent breast biopsy confirmed a breast cancer. Fortunately, it was caught early and after breast conservative surgery, he completed a course of postoperative XRT and will soon start anti-estrogen therapy. In the short span of 15 months, he has successfully completed therapy for prostate and breast cancer. If you think he is weak and discouraged by these events, you do not know Mr. Matthys. He has done so well through both treatment courses and even on his final day of breast radiation therapy, with expected radiation dermatitis on the left breast, he was generous with hugs to everyone in the department! Just look at his picture on his last day of XRT.
Many people believe that treatment options such as breast conservative therapy are not available to men and that men with breast cancer have a worse prognosis stage for stage compared to women but these are completely false. Mr. Matthys has a superb prognosis from both his prostate and breast cancer. Furthermore, although there is a genetic mutation linking prostate and breast cancers, Mr. Matthys's testing for Brca mutations was negative; therefore, his daughters are not at increased risk of breast cancer. So here's to you, Mr. Matthys, for many more years of health, love and blessings!
---
Summer 2015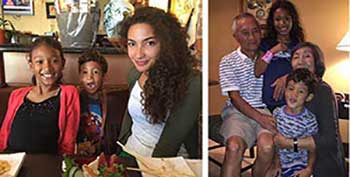 Where has the summer gone? The summer months here are usually some of the busiest of the year and with the record temperatures, staying busy inside has always been a blessing in disguise. This summer, we had a blast with my husband's cousin Marc and his daughter Loreane visiting from Paris. Loreane is currently a medical student in Brussels and was able to scrub into several surgeries in the Texas Medical Center during her visit. We are trying to convince her to do residency in Houston so we took her to plenty of good restaurants (here's a picture of Loreane with her sashimi)! As for my kids, I discovered a fantastic new camp in Sugar Land that they really enjoyed and during a week when no camps were available, my wonderful parents visited from Chicago. Now who else would come and visit Houston in August?? THANK YOU, Mimi and Papa! (here they are getting them ready for bed). My kids actually like to come to work with me for a few days in the summer but I just can't monitor their use of tape, printing paper, scissors and markers so thank goodness for camps and grandparents!
I hope you and your family enjoyed a wonderful summer and I'm sure I'm not alone when I say, let Fall begin!
---
Language Interpretation Services for Houston's International Patients
May 2015
According to the Kinder Institute for Urban Research and Hobby Center for the Study of Texas, "As of 2010, Houston metropolitan area is the most racially/ethnically diverse large metropolitan area in the nation, narrowly surpassing the New York metropolitan area." Having previously worked at M.D. Anderson in the medical center, I always enjoyed the rich diversity of patients and staff but now being in practice in Sugar Land, I am not surprised that the Kinder report has found that Missouri City (Sugar Land's sister neighborhood) and Pearland are now even more ethnically diverse than the City of Houston.
What an irony that my first thought of going into medicine was an article about Doctors Without Borders in Time magazine and although I am not traveling the world responding to epidemics or natural disasters, I do feel the international world at our doorstep and one patient at a time, we are responding to their emergency - being told they have cancer.
Here at the Sugar Land Cancer Center, we are so fortunate to have the resources to communicate in more than 200 languages thanks to Language Services Associates (LSA). On any given week, I utilize this telephone interpreter service to talk to patients who may only speak Mandarin, Vietnamese, French, Gujarati, Urdu, Burmese, etc. I have seen the peace of mind that comes as a patient and his/her family can have all their concerns expressed and addressed in their own language. Their body language and smiles tell me they are being heard and understand me as well. If you have a loved one with cancer but doesn't speak English or Spanish, be sure their physicians have such a tool to truly deliver the best care possible. It has removed all language barriers so we can do what we are here to do, take care of the patient.
---
Relay for Life
April 2015
This April, the staff at the Sugar Land Cancer Center participated in a community fundraiser for the American Cancer Society called Relay for Life (RFL). It is an all-night long team event that celebrates cancer survivors and raises funds for cancer research, education, prevention, advocacy and patient services. Lyndsey, as our team leader, accepted the challenge to organize, design and create our t-shirts and booth. In her own words…
"This year's theme was Rock N' Roll Over Cancer and we had a blast organizing our booth and fundraisers with that in mind. We decided to make our own photo booth, complete with fun props, for the event. Even Elvis wanted to take pictures in our booth! I am incredibly proud of our team for participating through the years and West Houston Medical Center (WHMC) for supporting this event. Together as a team we raised over $2,500. What a success!
As an oncology staff, we are all too familiar with the physical, emotional, and financial burden cancer has on our patients and their families. The American Cancer Society is an incredible resource not only for us as healthcare professionals, but more so for our patients who are the recipients of many services that make the battle they are fighting more endurable. We are happy to support such a wonderful organization and definitely have fun doing it!"
Lyndsey is not only a wonderful radiation therapist but her creative skills never cease to amaze us! Thank you, Lyndsey, for a wonderful job. We could not have done it without you!
---
Daily Exercise a Priority for One Breast Cancer Survivor
March 2015

One of the greatest joys of my life is meeting the inspiring people who come through our doors. I want you to meet one such patient of mine, Yvonne Chee. Besides being beautiful and genuinely kind, Yvonne has a vitality about her that caught my attention. We've all been victim to the usual stressors of life that have a way of weighing us down now and then but at 42 years old, Yvonne seemed immune from such mediocrity. From day one, she was confident that she would overcome her breast cancer (which she has!!) but even in her last week of treatment when fatigue began to creep in, she refused to make excuses and instead, finished STRONG!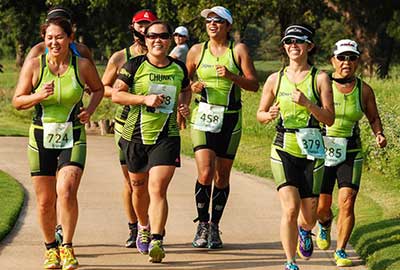 As I got to know her better, she shared with me her habit of regular daily exercise. She and her boyfriend are what one may call gym rats. You know the faces you see every time you go to the gym? Together or individually, they have completed countless endurance events over the years doing marathons, triathlons and even the Ironman. When I saw Yvonne for her first follow-up visit, she had just completed two full-length marathons back to back in less than 4 weeks! What happened to taking it easy for a little while? She works full-time but makes time in the mornings to go to the gym, whether it's to swim, run, weight training or all of the above!
Exercise is a powerful habit that not only reduces risk factors for many cancers but releases chemicals that make one feel good about themselves. Yvonne is a living example of the lifestyle that is possible if you slow down enough to live intentionally and create healthy habits. Just as I've been inspired by her example, she pointed to a fellow gym rat who she is inspired by- Ellen Chu, aka Ellen Mama. Ellen trains in the same group as Yvonne and at age 65, has completed 5 full Ironman events!!!! (In the group photo, Yvonne is on the left and Ellen is on the far right.) So if working full-time and overcoming breast cancer or being a grandmother aren't excuses, what's yours?
---
When a Gene Mutation is a GOOD Thing
February 2015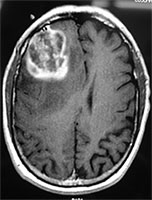 I recently had the pleasure of hearing Dr. Jay Loeffler, Chief of Radiation Oncology at Massachusetts General Hospital (MGH), share his passion and expertise on the topic of brain tumors. When a radiation oncologist gets excited about progress in the area of brain tumors, it is big news because for so many years, despite advances, patient outcome remains dismal for those diagnosed with certain subtypes of brain tumors.
So what's all the buzz about? Researchers have identified a gene mutation associated with gliomas that alters an enzyme called Isocitrate Dehydrogenase (IDH1), which is involved in protecting cells against oxidative damage. Usually we think of genetic mutations as bad but what the studies are finding with IDH1 is quite the opposite.
Brain tumors harboring this mutation of the IDH1 gene actually have a better prognosis that non-mutated tumors. This improvement is seen regardless of the tumor's grade, which until now, was the most important prognostic factor. For example, a patient with a high-grade brain tumor where we expect a median overall survival of around 15 months, may in fact live FOUR times longer if they carry the IDH-1 mutation compared with patients with wild-type IDH1. It remains to be seen if IDH1 mutation carriers respond differently to treatment but Dr. Loeffler said he has patients treated for glioblastome multiforme (GBM), an almost universally fatal diagnosis, who are positive for the IDH-1 mutation and are now alive and disease-free at 5 years!
The future for brain tumors lies in creating a comprehensive genome cancer atlas to truly give each cancer a molecular classification. This will identify the subtypes by genetics instead of tumor size, grade, etc.; thereby allowing more effective, tailored therapy.
---
Freedom of Speech and Intellectual Integrity
January 2015
In the wake of the Charlie Hebdo massacre in Paris last week, I came across an article in The Cancer Letter that sparked my interest. Freedom of speech through satirical caricatures cost a dozen artists their lives last week. In response, millions of people across the globe went public to courageously stand for freedom of speech. The story below is an example of why integrity in cancer research is so critical, just as is the freedom of speech.
In 2008, Bradford Perez was a third-year medical student at Duke with aspirations to become a radiation oncologist. He worked in the lab of scientist Dr. Anil Potti, who had published numerous articles in prestigious cancer journals about genomic predictive models to guide cancer treatment. The medical student grew increasingly concerned with his researcher's methods of interpretation of data. He eventually wrote a lengthy letter to Dr. Potti of his concerns. In response, Dr. Potti and several top officials at Duke allegedly tried to silence the medical student's criticisms. Two staticians from M.D. Anderson evaluated the statisitical methods of Dr. Potti's research findings and found that they were flawed. They contacted the National Cancer Institute to warn them and as a result, the NCI stopped plans to utilize Dr. Potti's genomic research in a future trial.
In 2010, after two years of continuing to publish papers and open studies based on his genomic signatures, Dr. Potti was found guilty of lying on his resume where he claimed to be a Rhodes Scholar, a most coveted recognition that is reserved for only a handful of individuals for outstanding scholarship, character and leadership. THIS finally got the ears of the larger cancer community to question the integrity of Dr. Potti and his research. Thanks in part to The Cancer Letter exposing the little white lie on Dr. Potti's resume, he is no longer at Duke University, had to retract numerous publications, close down related studies and his reported findings are no longer guiding cancer therapy for cancer patients.
Freedom and intellectual integrity are absolutely essential. The Cancer Letter and Charlie Hebdo often print controversial stories and we owe them a great deal of gratitude for it.
CLEOPATRA Study
December 2014
There were many important studies reported in 2014 but one of most encouraging that clearly impacts patient outcome is the CLEOPATRA study which focused on women with Stage IV Her2neu positive breast cancer. This study, which enrolled 808 patients from 204 centers in 25 countries, evaluated the benefit of dual HER2 blockade in previously untreated metastatic breast cancer. We know that pertuzumab and trastuzumab bind to different sites on the HER2 receptor. Patients were randomly assigned every three weeks to trastuzumab and docetaxel plus either pertuzumab or placebo. Treatment with the anti-HER2 agents continued until progression or unmanageable toxicity.
A previous analysis performed in May 2012 showed that the addition of pertuzumab increased progression-free survival significantly, to 18.5 months from 12.4 months with placebo. While a strong trend toward an overall survival benefit was observed, median overall survival had not been reached in the experimental arm. Well, after much anticipation, the final survival analysis performed after 385 deaths and at a median follow-up of 50 months, showed median overall survival to be 56.5 months in the pertuzumab arm vs 40.8 months in the placebo arm (hazard ratio [HR] = .68; P = .0002). Dr. Swain, who is a Past President of ASCO, deemed this improvement "phenomenal" and said it had never been observed with other metastatic breast cancer regimens. The results were reported at the European Society of Medical Oncology annual meeting in Madrid in September 2014.
As we move into 2015, targeted biologic therapy such as trastuzumab and pertuzumab will hopefully become more of the norm as we grow to understand various target in many tumor types that can potentially be exploited to improve therapy and minimize toxicity. (The Cleopatra Study was one of the top 10 articles cited in 2014 by the American Society of Clinical Oncology, ASCO.)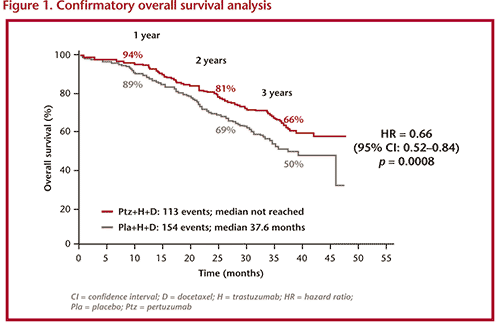 ---
Eight Years Later, Still Paying it Forward
November 2014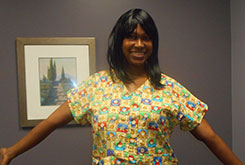 In 2007, I had the priviledge of meeting Jan Sidle, a vibrant mother whose life was turned upside down when diagnosed with breast cancer. Early in her treatment, she turned her focus on making the experience better for herself and others. Noticing many women in ill-fitted hospital gowns that literally transformed them into "patients", she and her daughter Amy decided that Jan would trade in her M.D. Anderson blue and white gown for a cheerful "smock" that they designed themselves. The shirts have Velcro closures in the front and along the sides so that doctors and therapists would have access to see radiation marks or one breast while being modestly covered everywhere else. Eight years later, Jan continues to be cancer-free and stopped by The Sugar Land Cancer Center to drop off more of her beautiful garments for our patients. Preserving a person's identity and dignity are so important when diagnosed with any illness but especially cancer. We applaud Smocks for Life for organizing volunteers to sew these tops for women undergoing breast cancer therapy- our patients LOVE them! To make a donation for fabric and materials, go to SmocksforLife.org.
---
Hope Fund Campaign
October 2014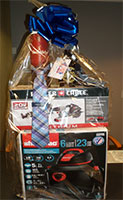 Every year, the Sugar Land Cancer Center (SLCC) joins West Houston Hospital in a hospital wide campaign to create unique gift baskets to raffle off to raise money for the Hope Fund. The Hope Fund is to provide emergency relief funds to our employees who face sudden tragedy or loss and need a helping hand. This year, one of our radiation therapists, Matt, thought of making a gift basket with a masculine theme centered around a complete set of power tools. Over the past few weeks, the entire staff rallied and generously contributed to the basket, making it one of the largest raffle items! Whoever wins this prize better come with a dolly to cart it home! Thanks to Matt and everyone at SLCC for 100% participation in what is a very vital resource for employees in need.
---
American Society of Therapeutic Radiation Oncology (ASTRO) Annual Meeting
September 2014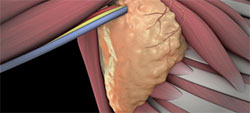 Every year, specialists in radiation oncology from all over the world convene to share and exchange ideas on how to improve care for patients with cancer. This year's meeting had a lively three-part Presidential Symposium discussing the many nuances of breast cancer treatment. Approximately 1 year ago, I wrote a blog about the AMAROS trial where women with breast cancer and positive sentinel lymph node involvement were shown to have equal outcome with axillary XRT as compared to a completion axillary lymph node dissection. The main difference found was a doubling rate of lymphedema in those women who had the axillary lymph node dissection so it was discouraged. Now, fast forward 1 year and the ASTRO keynote talks are moving the discussion to women receiving neoadjuvant chemotherapy, specifically studying whether or not axillary XRT can substitute axillary surgery in women with known axillary nodal involvement (cN1-2). These two exciting trials are:
NSABP B-51/RTOG 1304 study- randomly assigns cN1-2 patients who clear their axillary disease with neoadjuvant chemotherapy to nodal XRT or not
Alliance A11202 study- for cN1-2 women who despite having neoadjuvant chemotherapy still have positive sentinel lymph nodes, they are randomized to either axillary dissection or not with all women having nodal XRT
If you or someone you know has breast cancer with spread to the axillary lymph nodes, it is vital they discuss with their doctors the various approaches to the axilla as it may make all the difference in terms of their risk of lymphedema.
---
"What doesn't kill you makes you stronger."
August 2014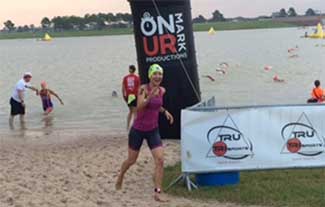 We've all heard this at least once in our lives but this August, I had the fortune to experience the truth in its words. On August 3rd, I took the plunge and attempted my first sprint triathlon!! My decision to train for this triathlon was prompted by a charity I hold very near and dear named Freedom Place. It is a haven located in North Houston for rescued underage girls that have been exploited by sex trafficking. It is the first home of its kind in Houston that provides comprehensive medical, psychological and spiritual rehabilitation as well as job training.
With the support of family and friends, I trained for 8 weeks in preparation of the 550 meter open water swim, 13 mile bike and 3 mile run. The event was organized by Onurmark and was a truly first-class event. With generous sponsors and much prayer, I completed the race and together we raised $33,000 for Freedom Place. My 6yo daughter Natalia completed the youth triathlon as well, and together we were awarded the top fundraising prize of an additional $700 towards our chosen charity.
It was an amazing feeling to do something I thought was impossible just 3 months ago. When I began training, I didn't know how to swim with my head in the water so drowning was a real fear as this wasn't in a pool where I could simply stand up if I got tired. I would be in a lake 12 feet deep with other swimmers, not able to see anything but brown water through my goggles…nevertheless, as I thought of the incredible courage of these underage girls who are turning their pain into stories of redemption, I knew I had to stop making excuses and JUST DO IT! Thank you to all those who believed in me. I didn't break any records but praise God I did finish to tell about it! To learn more about Freedom Place, visit www.arrow.org.
---
Double Mastectomy "not necessary" for most women, study says
July 2014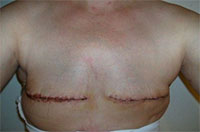 New research from The University of Michigan Comprehensive Cancer Center suggests that around 70% of women who undergo a double mastectomy have a very low risk of cancer in the healthy breast. Published in the journal JAMA Surgery (5/2014), lead author Sarah Hawley notes that after assessing family history of breast and ovarian cancer and any genetic test results, among women who had both breasts removed, 70% had no family history or positive genetic test (ie Brca 1 or Brca2). Hawley and her colleagues conclusion is that "For women who do not have a strong family history or a genetic finding, we would argue it's probably not appropriate to get the unaffected breast removed." The study found that the biggest reason women chose a contralateral prophylactic mastectomy (CPM) is worry over cancer recurrence but as Hawley points out "This does not make sense, because having a non-affected breast removed will not reduce the risk of recurrence in the affected breast." The patients who undergo CPM also often receive breast reconstruction which carries additional surgical risks, particularly when they are having bilateral reconstruction. The decision to remove a healthy breast when ample data shows that it does not improve one's survival is a complicated one that should be discussed with one's physician, but the study supports what many breast experts are saying and that is "Less is more."
---
A Survivor's Story - Donna Roth
June 2014
This June marks a special 5-year anniversary for one of my bravest patients, Donna Roth. Read here her survivor's story.
My story began about five years ago. It was Mother's Day weekend and my twins were 14 months old. I was at my son's t-ball game that weekend and remember thinking that we made it through the twins stressful first year and things were about to get better. Then I felt the lump in my left breast and it hurt. I was diligent and called the doctor and made an appointment. I saw the OB/Gyn who thought that it was a blocked duct and he didn't like how it felt. Three days later, the physician checked on me to see if that duct was unblocked. I couldn't unblock it so I was scheduled for a mammogram the next day. The memories the next day are a whirlwind.; First, a mammogram and then an ultrasound with a radiologist, who told me I needed to go and call a surgeon. I got back to my desk and called our surgeon. He got me in the next day. My doctor then called and told me to come to the office, and to bring my husband. At this point I knew it was going to be bad. The doctor told us that after talking to the Radiologist, we should be prepared because this was most likely an aggressive cancer. I was only 38 and had NO history in my family. To say I was scared would be an understatement.
Days later I had secured an appointment with the world leader in Inflammatory Breast Cancer, as that was what the pathology led the doctors to believe it was. He and his nurse met with my husband, my parents and me and gave me little hope. He was upset I hadn't come to him after a biopsy. I told him if he was the best, together he and I could beat this. I had three children under the age of 6 to raise and he had to cure me. About two weeks later I arrived for my first chemo which I would have to take every three weeks for one year. I lost my hair and lots of weight but I never lost hope. I met with an amazing Radiation Oncologist who told me I could beat this - she was the first one who sided with me. Five years later, as of June 1st, all scans are clear. My children are now 11 and 6 and I am thankful for each and every day. God sent me many signs during treatment that if I continued to believe I could win this battle that I would. I'm still a survivor, and I know, by God's grace, that I am here to help others with this dreadful disease.
Dr. Oh, thank you again from the bottom of my heart, for being the light in a time of darkness. I am still here because of you!
Donna Roth
---
Battling Rectal Cancer in Style
May 2014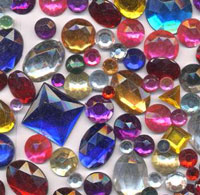 Today I met a truly wonderful woman. She is in her 40s and has been struggling with chronic constipation for over 20 years and despite laxatives by the dozen, she recently had very prolonged periods with no bowel movement. After being told by many physicians that it was nothing to worry about, she insisted on taking her health into her own hands and scheduled a colonoscopy. The exam confirmed a rectal mass and biopsy proved it to be cancerous. When I mentioned the remote possibility of a colostomy, she said "'Whatever it takes, if I need a colostomy to live, I'll bedazzle it! No problem."
Did she just say she'd bedazzle her colostomy? Yes she did. I have heard patients say they would rather die from their cancer than live with a colostomy and despite sharing with them the evidence, a few patients with rectal cancer do opt for non-surgical treatment against medical advice. Although this woman will not likely need a colostomy due to the location of the tumor, her attitude of transforming the difficult things into things of beauty to decorate and celebrate is one we could all learn from.
---
Perjeta Doubles the Response Rate for Breast Cancer Patients
April 2014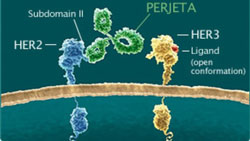 Six months ago, the U.S. Food and Drug Administration (FDA) granted accelerated approval to pertuzumab injection (PERJETA®, Genentech, Inc.) for use in combination with trastuzumab and docetaxel for the neoadjuvant treatment of patients with HER2-positive, locally advanced, inflammatory, or early stage breast cancer (>2 cm or node positive).
Pertuzumab is a recombinant humanized monoclonal antibody that targets the extracellular dimerization domain of HER2, and thereby blocks heterodimerization of HER2 with other HER family members, including EGFR, HER3 and HER4.
The approval of PERJETA® for neoadjuvant treatment is based on a randomized, multicenter trial in patients with HER2-positive, operable, locally advanced, or inflammatory breast cancer. The trial enrolled 417 patients to various chemotherapy schedules. The trial's primary endpoint was pathological complete response (pCR) rate defined as the absence of invasive cancer in the breast. The pCR rates were 39.3% and 21.5% in the pertuzumab plus trastuzumab and docetaxel and the trastuzumab plus docetaxel arms, respectively. Although no data are available demonstrating improvement in event-free survival or overall survival, we hope this to be shown in confirmatory trials and would not be surprising since much data exist that support that response to chemotherapy is strongly predictive of long-term outcome.
---
The Rodeo Spirit Within
March 2014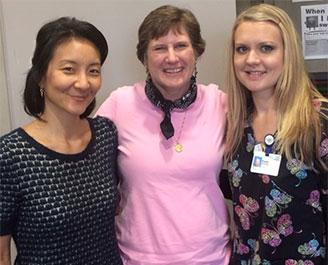 Each March, Houston is transformed into a true rodeo town with trail rides, concerts and carnival attractions but it's the less tangible spirit that keeps millions of local and national visitors coming year after year. The Sugar Land Cancer Center was so privileged to celebrate a very special patient's one year anniversary of being cancer-free this month. Diagnosed with breast cancer last June, Suzanne rallied and literally grabbed the bull by its horns, reading articles and truly making tough, informed decisions. Undergoing surgery, chemotherapy and radiation therapy, she continually exemplified a spirit of determination to beat her diagnosis. Here, her smile says it all! She is healthy, happy and has a heart as big as Texas!
---
Sugar Land Cancer Center Attains National Recognition by ACR
February 12 2014
The American College of Radiology (ACR) awards accreditation to select facilities for the achievement of high practice standards after a peer-review evaluation of its practice. Rigorous evaluations are conducted by board-certified radiologists and medical physicists who are experts in the field.
Being recognized by ACR means that The Sugar Land Cancer Center staff and equipment along with their commitment to safety and quality care meets or exceeds nationally-accepted standards. I am immensely proud of our entire staff and congratulate them for achieving this national recognition!!
---
CVS Stops Selling Tobacco Products
January 2014
This month, CVS announced that it would no longer sell tobacco products in their stores. The management pushed for this change over the past two years based on their belief that it was the right thing to do. They stated that they wanted to be seen as a store that promotes health, therefore it was simply inconsistent then to sell cigarettes. Tobacco use is the leading preventable cause of disease, disability, and death in America. In addition to its strong link to lung cancer, smoking is also associated with more than a dozen other cancers. "CVS Caremark should be commended for its courageous decision to stop selling tobacco products in all of its pharmacy stores," said American Society of Clinical Oncology (ASCO) President Clifford Hudis. It will be interesting to see if other companies such as Walgreens follows CVS's lead.
Happy Holidays!
December 12 2013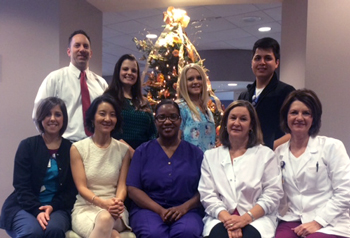 From our family to yours, happy holidays to our extraordinary patients and loving families. You have become family to us and we are so grateful for your trust and confidence.
Wishing you blessings of health, peace and prosperity in the new year! See you in 2014!!
---
Stage 4 Lung Cancer Disappears in Just Three Months
November 1 2013
In August, I had the honor of meeting a warm and loving couple when the wife, Amy, was referred for radiation therapy. She had just been diagnosed with Stage 4 lung cancer despite having never smoked. Her symptom was pain in her low back and left hip. When x-rays and MRI were done, they revealed the cancer had spread to her bones and liver. She was unable to stand and required a wheelchair.
After approximately 3 months of coordinated systemic and local therapy, a PET/CT test this month revealed the best news we could hope for, a COMPLETE RESPONSE! Every lesion in the lung, liver and bones had disappeared and she is walking, working full-time and living life to the fullest. Seeing Amy's smile and recovery is what makes our work all worth it. Despite the odds presented to her, what a remarkable example of perseverance and hope!
---
Rapid Arc at the Sugar Land Cancer Center has arrived!
October 29 2013
We have recently introduced an exciting new treatment technique known as Rapid Arc Volumetric Modulated Arc Therapy (VMAT). Rapid Arc is a new form of image-guided, intensity-modulated radiation therapy (IMRT) which quickly delivers a complete IMRT treatment with a single rotation of the treatment machine around the patient. Rapid Arc allows very tight conformality of dose around the target tumor and has improved our ability to spare surrounding healthy tissue. Our patients are already noticing the difference. With Rapid Arc, the 15 minutes that patients used to lie on the treatment table has now been cut to less than a third of this time. Sometimes, patients are surprised at how fast treatment is and comment that they had hoped to catch a quick nap during treatment. Rapid Arc is a most welcome addition to our already superb state-of-the-art technology and Sugar Land Cancer Center is proud to be one of the only facilities in the area to offer it.
---
When a Completion Axillary Dissection Does More Harm Than Good
September 3 2013
According to the final results of the European Organisation for Research and Treatment of Cancer (EORTC) AMAROS trial, women with breast cancer may not need as much surgery of their axillary nodes any longer.
The randomized trial included 1425 women with clinical T1-2, N0 breast cancers who had a positive sentinel lymph node. The axilla was treated with either a completion axillary lymph node dissection or axillary radiation therapy. At a median follow-up of 6.1 years, the risk of relapse in the axilla, dying from breast cancer and overall survival was equally very low in both groups. However, a big difference was seen in terms of the rate of lymphedema, which was much higher in women who underwent further axillary surgery. This difference was highly statistically significant.
The take home message is to talk to your surgeon and radiation oncologist if you have spread of your breast cancer to a sentinel lymph node. The AMAROS trial teaches us that radiation can substitute for a complete axillary lymph node dissection in select patients and reduces the risk of developing arm lymphedema.
---
Cervical Cancer Death Rates Drop by One-Third in Rural India
August 12 2013
While its incidence has decreased in developed countries with national screening programs, in rural India, cervical cancer remains the #1 cause of cancer death among women. A new study reports that a simple and inexpensive screening test with vinegar swabs allowed the detection of cervical cancer and lowered the rate of related deaths by 31%. The 150,000 participants were women from 20 low-resource clusters in western India. This screening was implemented by non-medical personnel after only 4 weeks of training. The authors of the study plan to train primary health workers to screen women aged 35-64 every 2 years with this low-tech test and the Indian government is responding to the results enthusiastically by working to implement it throughout the country.
---
Independence Day
July 3 2013
Fireworks came EARLY at the Sugar Land Cancer Center today as a very adorable patient wore a hat she custom made for tomorrow's celebration of the Fourth of July. The hat had its own fireworks display on top with red, white and blue stars, tiny red roses, white tulle and what fascinator would be complete without…red and blue feathers! Thank you, Ms. R.G. for putting a smile on everyone's face today. Whoever said fascinators were too British and stuffy hasn't seen this!
---
Tracking Tumor Motion
June 3 2013
It is well known that certain tumors move with respiratory motion. In the past, physicians accounted for this respiratory motion by designing the plan with adequate margin around the tumor to ensure the tumor was always in the treatment field. However, Sugar Land Cancer Center now offers new technology that allows the physician to actually track the tumor location at every phase of the patient's breathing cycle. This enables us to make a series of images to see if the tumor moves and if so, by how much in what direction. This is then taken into account for planning and allows the physician to decrease the margin. Smaller margins around the tumor means more normal lung sparing and improved accuracy in delivering the dose only to the area of need. It is exciting to see this implemented and we expect to utilize this technology for other disease sites as well where tumor motion is an issue (ie. liver, pancreas).
---
Skin Cancer Prevention Tips
May 16 2013
A very wise (and humorous) former patient once asked me if I knew what the four seasons in Houston were. I paused to ponder this question when he answered "Almost Hot, Hot, Still Hot and Christmas."
Years later, this is still one of my favorite patient quotes! But it begs the question, what are we doing to protect ourselves from this hot, hot sun? Here are my top 5 tips to prevent skin cancer:
Wear sunscreen every day, even if it looks cloudy or you don't plan on spending hours in the sun.
Use sunscreen with SPF-30 or above. An SPF-30 blocks 97% of damaging sun rays.
Reapply your sunscreen every 1.5-2 hours because it does wear off.
Avoid the sun by staying indoors (especially between 10am-4pm), wearing sunglasses, hats, long sleeve shirts and pants if possible.
Never go to tanning beds. Indoor tanning has been linked with melanoma, the deadliest type of skin cancer.
Wishing you beautiful, healthy skin and a safe summer!
---
Relay for Life at Oyster Creek Park, Sugar Land, TX
April 5 2013
Started 28 years ago by Tacoma colorectal surgeon Dr. Gordy Klatt, Relay for Life continues to inspire and give hope to cancer survivors and their family, friends and caregivers. Since its inception, it has raised $4.5 billion dollars for the American Cancer Society and we want to add to that number. On April 26th, the Sugar Land Cancer Center's very own "BEAM TEAM" will be participating in the Relay for Life at Oyster Creek Park so come out and show your support! Each year, a very special and sometimes emotional highlight is to see our own survivors walking in the opening ceremony in the Survivors Lap. This is what it's all about. So let's relay together to make more survivors, have more birthdays and to eradicate cancer for good.
---
World Cancer Day
February 4 2013
February 4th is World Cancer Day and this year's priority is to dispel the myths and misconceptions about cancer. The dangers of false assumptions cannot be underestimated. Several real examples come to mind. A new mom in her early 30s noticed her breast getting red and swollen while nursing…"You're too young to get breast cancer and don't have a discrete mass. It's just mastitis." A non-smoker, non-drinker who noticed a lesion on her tongue getting bigger… "It can't be cancer since you don't drink or smoke." A woman complains of burning and pain at the anus… "You have hemorrhoids. Take a laxative and you'll be fine." All three of these patients had cancer and each went 6-12 months before diagnosis and treatment. Prompt diagnosis and initiation of treatment get results, namely higher cure rates. The delay in diagnosis was due in part to the myths about who does and doesn't get cancer. Take steps to educate yourself and family members about the most common cancers and what lifestyle changes you can implement to minimize your risks.
Staff Appreciation
December 22 2012
Just a note of gratitude to our wonderful staff and patients who make our workplace one that I'm truly proud to call home. Over the past few weeks, we have enjoyed surprise visits by former patients dropping in to wish us happy holidays or to drop off their favorite goodies. It's nice to see friendly faces who know they are always welcome.We often hear from patients that they feel like family here and this is among the greatest compliments. To our patients and wonderful staff, on behalf of the Sugar Land Cancer Center, I'd like to wish you all a wonderful holiday and wish you and your family health and prosperity in the new year!

Warm regards,
Dr. Oh
---
Advanced Technology at Sugar Land Cancer Center
December 18 2012
Sugar Land Cancer Center continues to expand its offering of advanced treatment technologies with the recent addition of a linear accelerator based imaging and localization platform known as Image-guided radiation therapy (IGRT). IGRT uses a variety of planar and 3-dimensional (3D) imaging techniques throughout the course of radiation therapy to accurately identify, pinpoint, and monitor the tumor for changes allowing us to adapt the treatment day to day for optimum success. Three-dimensional imaging is accomplished through a process known as Cone Beam Computed Tomography (CBCT). This process uses a conventional X-Ray system to generate a 3D representation of the patient anatomy, immediately prior to treatment. By doing so, we are able to accurately visualize not only the skeletal anatomy, but the tumor as well, enabling us to deliver the radiation to its intended location with confidence. The combination of imaging and treatment into one system greatly enhances our ability to deliver the necessary dose of radiation to the tumor with millimeter precision and accuracy while sparing the surrounding healthy tissue. This ultimately leads to a reduction in treatment toxicity, an increase in overall local tumor control, and greater patient outcome.
In addition to the CBCT technology, the installation of a Wide-Bore CT simulator is currently under construction. This multi-slice computed topography scanner has specially designed features for radiation treatment positioning and planning. Advantages of this state of the art equipment include:
Greater options for positioning patients for improved comfort and treatment planning
Ease with accommodating larger patients
Fast CT data acquisition eliminating motion artifacts
A shortened planning period, which enables treatment to begin sooner
With the addition of CBCT/IGRT and wide-bore CT technology, patients treated at the Sugar Land Cancer Center can be confident that they are receiving the absolute best care available. Coupled with the world-class expertise of its caring staff it remains Houston's best place for comprehensive cancer care.